Compass Automated
Fundus Perimeter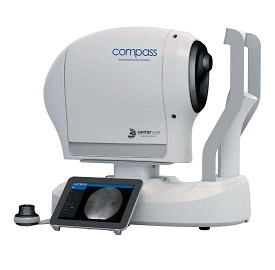 The evolution of fundus perimetry in the management of glaucoma.

Compass is the first fundus perimeter capable of performing standard 24-2 visual field testing and the first confocal system delivering true colour images.
Interested in finding out more? Fill out
your details below and we'll be in touch.

Download

Click the links below to view more product details:

Compass Sales Flyer

Compass Brochure

Compass User Manual

Compass Demo Video
Benefits

High-resolution confocal imaging of the ONH and of the central retina
Combined structure and function analysis
Fully automated operation
Comprehensive and clear printout
Operator friendly
Increase patient comfort: test can be suspended at any time without data loss
Compass
By Centervue.

The Compass is manufactured by
Centervue
- a company established in 2008 in Italy with the support of M31, a European venture incubator.
A worldwide leader in the eye care diagnostics field, Centervue integrates the most advanced technologies to develop superior diagnostic instruments for eye care.
Opticare proudly distributes the Centervue DRS and Centervue Compass throughout the pacific region.