The optimal solution for the study of corneal and ocular aberrations
The Onda's corneal topography function has the same reliability and excellence found in the entire family of Keratron™ topographers.
Ocular Aberrometry and Refraction can be done under accommodative stress without cycloplegics.
The innovative software is continuously updated to include new refractive investigation features.
The software now identifies the "Strehl ratio", an aberrometric parameter that identifies the sphero-cylindrical correction that yields maximum visual acuity in the presence of higher order aberrations. The Onda's combination of features allows customised ophthalmic correction and full ametropic management.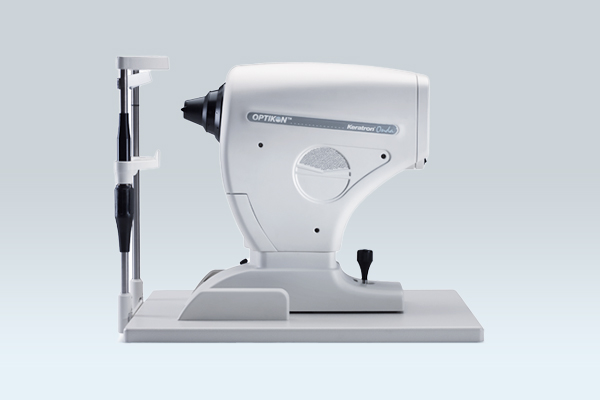 Corneal Topography
Measures the curvature, axial, height, wavefront, refractive, gaussian, differential.
Refraction
Measures refraction in all pupillary conditions: photopic, mesopic, and scotopic.
Pupillometry
Measures the pupil diameter and K angle in any lighting condition.
Dynamic Accommodation
Graphs accommodation according to defocus, astigmatism, coma, spherical aberration, and pupil.
Cataract Densitometry
Identifies the pupil area affected by lens opacity, in order to monitor and statistically analyse the type and extent of cataract progression.
Contact Lenses
Simulates the fit of gas permeable contact lenses for all major international manufacturers.
Parameters
Specifications
Model
Keratron™ Onda model REF 161401
Topographical Precision
Ophthalmometer Data (sim-K)
within ±0.25D on a normal cornea
BFS (Best Fit Sphere) deviation
typically within ±0.15D
Aberrometry
Analysis area on the pupil
7x7 mm std (7.3x7.3 mm max)
Sensor
Microlens Array OPTIKON design
Spatial resolution
128 microns ( 2350 points in the maximum pupil)
Wavelength SLD
840 nm
Wavelength LEDs
750 nm and 590 nm
Measurement Range
-20D +10D (@VD=14mm) (sphere)
±10D (cylinder)
Defocus compensation
-11D +5D (automatic and manual)
Objective measurement of the patient's accommodative response
from +1D -4D over the defocus
Zernike polynomials
7th order
Environmental Specifications
Storage
temp. range between -10 °C and 60 °C
humidity 0-100% (cond. incl.)
atm pressure from 500 to 1060 hPa
Operation
temp. range from 10 °C t o +40 °C
humidity 30-75% (non-condensing)
atm pressure from 700 to 1060 hPa
Electrical Specifications
Input voltage
from 100 to 240 Volts AC
Frequency
50/60 Hz
Current consumption
70 VA
Fuses
2 x T 1 A (5 x 20 mm)
Regulatory compliance
Medical Device Directive 93/42/EEC
Technical standards
EN 60601-1:1998; EN 60601-1-1:2000;EN 60601-1-2:2001+A1:2006; IEC 60825-1:1993+A1:1997+A2:2001; EN 60601-1-4:1997+A1:1999
Downloads
Brochures, Guides, and Documents
Interested in any of our products?
Get in touch with us now!
1800 251 852
info@opticare.com.au
New South Wales
118 Adderley St, Auburn
NSW 2144
Phone: 02 9748 8777
Fax: 02 9748 8666
Queensland
Unit 3, 5 Navigator Place, Hendra
QLD 4011
Phone: 07 3630 2366
Fax: 07 3630 2399
Western Australia
6 / 63 Russell St, Morley
WA 6062
Phone: 08 9376 3700
Check our other diagnostic solutions
Interested to know more about the Keratron Onda Aberrometer?
Your questions are all welcome. Contact us and we'll be in touch right away.