2Win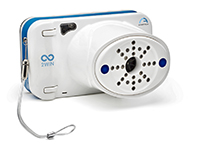 Binocular Mobile Refractometer and Vision Analyzer

2Win is the smartest way to detect refractive errors and vision problems.
Interested in finding out more? Fill out
your details below and we'll be in touch.

Download

Click the links below to view more product details:

2-WIN-4 Binocular Mobile Refractor

2-WIN-S Binocular With Stop Light

2Win User Manual

2Win Demo Video

2Win S Video
Benefits

Measurement of binocular objective refraction also with glasses or contact lenses
Refraction of infants and children from 2 months and up, seniors, impaired and non-cooperative patients
Early detection and documentation of multiple amblyogenic factors
Objective measurement of sight anomalies that may be related to anisocoria, anisometropia, strabismus and phoria (software optional)
Non-Invasive
Easy of use
Rapid Measurement
2Win by Adaptica

The 2Win is manufactured by
Adaptica
- a company founded in 2009 as a spin-off of the University of Padova, Italy specialising in adaptive optics and optoelectronics.
Adaptica leverages on its technological know-how and competences in Astronomy to move from a better vision of the universe and its galaxies towards exploring vision and the human eye. Shortly after, Adaptica expanded into health-care with particular focus to vision and eye-care.
Opticare proudly distributes the Adaptica 2Win and Adaptica VisionSC throughout the pacific region.