Digital Retinography System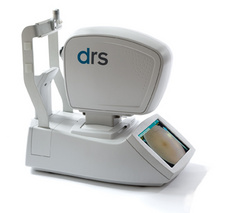 The new frontier of fully automated non-mydriatic fundus camera.

The DRS captures digital images of the central retina without pharmacological pupil dilation. Extremely easy to use, intuitive touch screen operation, conducting eye exams within a matter of seconds.

Interested in the DRS? Fill out
your details below and we'll be in touch.

Download

Click the links below to view more product details:

DRS Brochure

DRS Image Gallery

DRS User Manual

DRS Technical Specifications

DRS Demo Video
Benefits

Fully automated, minimal training required
Affordable. Compact. Portable.
Fast routine procedure improves practice efficiency
Intuitive, software-guided operation
Short exam time: captures both eyes in 1' (single field)
Web-ready: transfer images to network or iPad for remote viewing
The DRS allows for large-scale screening programs, which is key in the prevention of diabetes-induced vision impairments that can lead to blindness.
DRS. By Centervue.

The DRS Fundus Camera is a manufactured by
CenterVue
- a company established in 2008 in Italy with the support of
M31
, a European venture incubator.
A worldwide leader in the eye care diagnostics field, Centervue integrates the most advanced technologies to develop superior diagnostic instruments for eye care.
Opticare proudly distributes the Centervue DRS and Centervue Compass throughout Australia & New Zealand.