The Power of Wavefront
The fully-automated VX40 has both lensmeter and lens mapping functionalities, ensuring lens analysis that saves time in prescreening. It detects and analyses all types of lenses, including bifocals, progressive, freeform, and single vision lenses, and is compatible with all lens technologies and brands. It is fully automated as it allows you to get detailed lens analysis and measurement of a frame in 30 seconds and at one push of a button. It can analyse up to 1,350 points. No user input is required, even for left or right eye movement.
Fully Automatic
The VX40 is fully automated. After the operator places the frame and initialises the start procedure, lens analysis and measurement are automatic. Even left/right eye movement requires no user input.
Easy to use
The unique lens holder system allows for fast insertion of the frame with only one hand! After pushing the start button, the whole process works on its own. The VX40 allows you to spend more time with your patients and less time with analysis.
Automatic Lens Analysis
The VX40 detects all types of lenses including bifocals, progressives, freeform, and single vision lenses. It is compatible with virtually every lens technology and brand.
Complete Visual Analysis
The VX40 analyses progressive and freeform lenses and then conveys the measurements to the operator in a visual topographic map of the power ranges across the lens. These lens types no longer have to be a mystery to you.
Side By Side Progressive Lens Analysis
The lens is studied completely, allowing the operator to pick any point on the lens to verify the power and accuracy of the manufacturing. Compare and analyse even freeform progressive lenses and show your patients the differences between different progressive lens designs.
A device for you to take care of the visual health of all your patients.
Automatic lens type detection
Automatic measurement
Freeform lens analysis
Single vision measurement
Progressive lens analysis
Comparison between progressive lenses
Internal printer
Mono and binocular PD measurement
RS-232 and Bluetooth interfaces
Prisms calculation
Analyse cut or uncut lens properties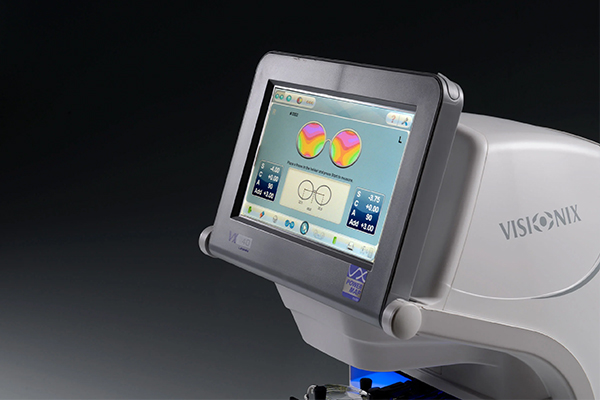 Downloads
Brochures, Guides, and Documents
Interested in any of our products?
Get in touch with us now!
1800 251 852
info@opticare.com.au
New South Wales
118 Adderley St, Auburn
NSW 2144
Phone: 02 9748 8777
Fax: 02 9748 8666
Queensland
Unit 3, 5 Navigator Place, Hendra
QLD 4011
Phone: 07 3630 2366
Fax: 07 3630 2399
Western Australia
6 / 63 Russell St, Morley
WA 6062
Phone: 08 9376 3700
Check our other diagnostic solutions
Are you interested to know more about the VX40 autolensmeter?
Your questions are all welcome. Contact us and we'll be in touch right away.